This Web site was designed using Web standards.
Learn more about the benefits of standardized design.
Quick Links
Wednesday Nov 23rd, Dismissal 2:15 for Holiday Weekend!
Main Navigation
Top Stories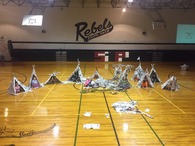 K-12 Students and Staff meet in their family groups to create a teepee that at least one person could sit in. Some are free standing and some had a little trouble standing. But all had a good time.