---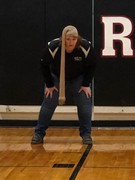 Don't mess with Mrs. Guthrie when it comes to competition!!! She is ALL business.
---
2nd Quarter/1st Semester Awards Assembly
South Page Schools had an assembly to celebrate 2nd Quarter and 1st Semester Achievements on February 1, 2019. Such achievements include honor roll for both 2nd quarter and 1st semester, superior and excellent attendance, academic improvement, and positive behavior.
2nd Quarter Honor Roll:
A Honor Roll: Michela Moroder, Catherine Neihart, Anastasiya Zhornova, Anne Guthrie, Elie Drennen, Peyton Guthrie
A/B Honor Roll: Autumn Matson, Erin Slough, Amorette Mackey, Mason McClarnon, Jessalee Neihart, Isaac Autry, Cheyenne Sunderman
First Semester Honor Roll:
A Honor Roll: Michela Moroder, Erin Slough, Anastasiya Zhornova, Eli Drennen
A/B Honor Roll: Catherine Neihart, Amorett Mackey, Mason McClarnon, Jessalee Neihart, Isaac Autry, Peyton Guthrie, Cheyenne Sunderman, Cristian Ramos, Lucy Autry, Keegan Hull, Steven Lundvall, Tanner Rowe
Attendance:
Superior Attendance (has missed no days): Ethan Gray, Keegan Hull, Kennedy Hull, Kinsey McCalla, Tanner Rowe, Zachariah Rowe
Excellent Attendance (missed 3 or less):

High School: Anastasiya Zhornova, Autumn Matson, Draven Pedersen, Joslyn Mace, Logan Gladman, Peyton Guthrie, Seger Mace,
Elementary: Andrew York, Ava Stewart,Blake Beck, Brayden McCalla, Braydon MacVenn, Brensyn Fuller, Candice Vargas, Cash Catlett, Conner Hale, Damion Petersen, Destiny Vargas, Emelia Baer, Hallie Fuller, Holden Conyac, Jaeyln Gray, Jason Petersen, Kinley Babbel, Layla MacVenn, Lillian Autry, Lucy Autry, Mary Autry, Miles Mace, Miley Potts, Nolan Hullinger, Penelope Autry, Phoenix Overstreet, Shannon Nichols, Star Poppa, Tanner Thornton, Teanna Adams, Veronika Carper
Elementary "BUG" Awards (Brought Up Grades)
Kindergarten: Nolan Hullinger, Sterling VanDriel, Benttleigh Baer, Carter Long, Brensyn Fuller, Keegan Osthoff, Teanna Adams
1st/2nd Grade: Kinnely Babbel, Kinsey McCalla, Holden Conyac, Ethan Gray, Ava Stewert
3rd Grade: Grayden Catlett, Jaelyln Gray, Conner Hale, Miles Brayden McCalla, Cruz Ramos, Hallie Riggins, Matti Strange, Tanner Thornton
4th Grade: Angel Rine, Emelia Baer, Josey Strange
5th Grade: Kayden Powell, Layla MacVenn,
6th Grade: Lucy Autry, Ava Christiansen, Alexandrea Hale, Steven Lundvall, Tanner Rowe
2nd Quarter Teacher Nomination Awards
Cole Stewart - Hard work and academic progress
Kinsey McCalla - Hard work and being a great role model
Hallie Riggins - Hard work, polite and responsible
Emelia Baer - Positive participation
Jayden Fastenau - Great work ethics in math
Keegan Hull - Positive participation
Pebbles MacVenn - Being prepared and academic progress
Blaine Hicks - Positive participation and attitude
Sierra Hale - Academic progress
Erin Slough - Positive attitude and academic progress