---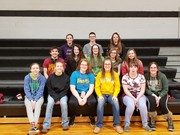 Tina Miller
South Page students who participated in speech competition.
---
Rebels Sweep Speech Competition!
South Page high school students competed in three categories at a speech competition at Clarinda High School on January 19, 2019. The group of students were sponsored by Mrs. Karen Guthrie.
All three groups received a 1 rating and will advance to the state competition at West Des Moines Valley on February 2nd.
Improv Group:Catherine Neihart, Jessalee Neihart, Autumn Matson, & Emma Hicks
Ensembly Acting: Catherine Neihart and Erin Slough
Readers Theatre: Lesli Gregory, Emma Hicks, Erin Slough, Anne Guthrie, Amorette Mackey, Mason McClarnon, Shalee McCollum, Jessalee Neihart, Alexia Runyon, Eli Drennen, Peyton Guthrie, and Cheyenne Sunderman
WAY TO GO REBELS AND MRS. GUTHRIE!