---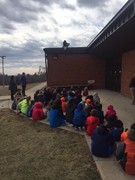 Mrs. Henneman Reading "Green Eggs and Ham"
---
Read Across America Week
February 27-March 3rd Students and Staff at South Page will be celebrating Read Across America with Dr. Seuss. Everyday a teacher will read a Dr. Seuss book from a different fun location at school and there is dress up day to go along with the book.
Monday - wear Green Day - Mrs. Henneman read 'Green Eggs and Ham" from the school roof.
Tuesday - Wear Crazy Socks - Mrs. Skinner read "Foxes in Socks" at the city park
Wednesday - Wear Red or Blue - Mrs. Eighmy read "One Fish, Two Fish, Red Fish, Blue Fish" - 3rd grade students read
Thursday - Wear Shirt with Letters - Mrs. Yonker read "Dr. Seuss's ABC's" in the GYM
Friday - Wear hats - Mr. Osborne read "Cat in the Hat" from the stage.